Our aim at All Concepts is to simplify the homebuilding process, particularly when it comes to cabinets and countertops, which are often the most challenging part of a project. We hear from our new builder clients time and time again that countertops and cabinets are where their projects experience the most delay and uncertainty.
Another complaint that we heard all too often was the decision paralysis that builders and their clients would experience when presented with the vast array of options available to them. For builders without a dedicated design expert, choosing the right mix of cabinets and countertops was a challenge that ate away much time and energy.
In an effort to solve both of these problems, our team developed our Concept Collection. This curated collection of selections options for countertops and cabinetry features a variety of on-trend options that are readily available and able to be mixed and matched. Builders are presented with a manageable list of options from our team and say goodbye to unpredictable delays and costs.
Concept Countertops features eight distinct product levels to choose from featuring granite, quartz, marble and quartzite options. Keep reading to learn more about each level and what's included: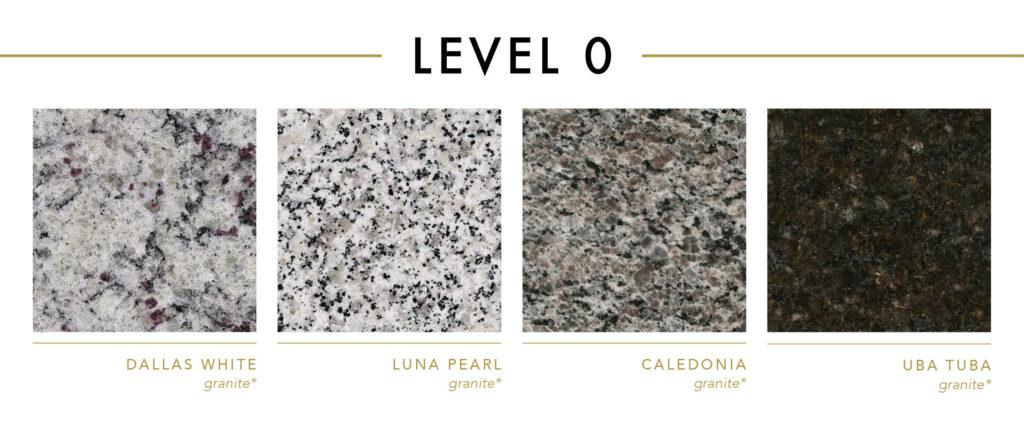 Level 0 – Basic Granite Selections
Our first level features the most affordable granite selections that work with a variety of design styles. Granite continues to dominate the builder market – especially among spec and semi-custom builders. A naturally occurring stone, granite is available in a wide range of colors and patterns with no two slabs exactly the same. Granite is also an incredibly durable material that withstands heat, scratches and chips, which makes it low-maintenance, too. An occasional coat of sealant to prevent stains and bacteria buildup (since granite is porous) is really all that's required!
Four popular colorways are available in our Level 0 granite selections:
Dallas White – Our top-selling granite, this popular slab includes a white range of colors that make it a viable option for most design schemes. A base of white scattered with mineral concentrations of gray, black, brown and even some lavender tones throughout make for a beautiful, versatile combination.
Luna Pearl – Our second most popular granite color, Luna Pearl has a tight, uniform pattern of small flecks of whites, creams, blacks, browns and grays throughout.
Caledonia – A darker granite option, Caledonia features shades of grays, taupes, browns, and black. This option has major appeal for customers looking for something dark, but warm.
Uba Tuba – The darkest option of our Level 0 granite, Uba Tuba is actually a dark green granite that is often confused for black. This color pairs especially beautifully with lighter cabinets for those looking for a sharp contrast in their design.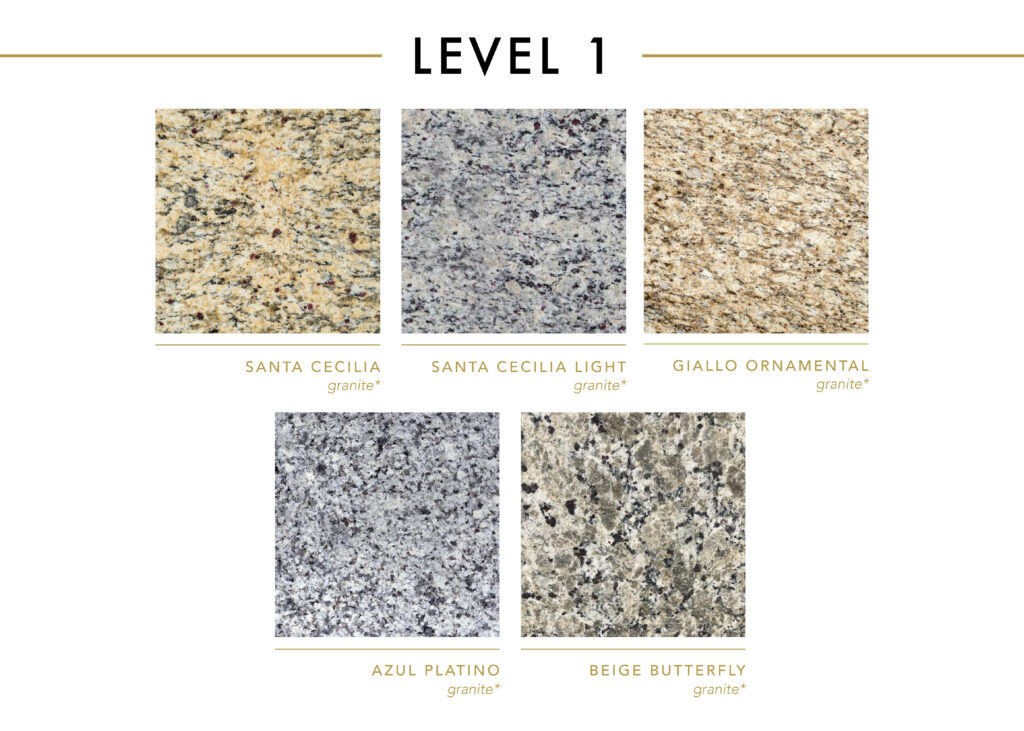 Level 1 – Granite Options
Level 1 countertops also consist of all granite options with a wider array of color options:
Santa Cecilia – Neutral tones are back in home design, and Santa Cecilia is a great affordable option for homes moving away from grey and white! This stone has yellow undertones with burgundy, brown and black flecks.
Santa Cecilia Light – The very light sister colorway to Santa Cecilia, Santa Cecilia Light includes the same tones – yellow, gold, black and burgundy – with a much lighter, creamier background than its big sister!
Giallo Ornamental – This beautiful, light option includes a creamy white background with dark gray and brown flecks throughout. This color palette is also quite similar to Santa Cecilia, but Giallo Ornamental boasts a tighter and slightly more linear pattern with softer dark spots.
Azul Platino – Featuring a relatively consistent and tight color pattern, Azul Platino takes us over to a cooler palette with its white base and specks of black and grey blended with silver and light blue. In the right lighting, you can catch a fun glimmer on the crystals packed into this unique stone.
Beige Butterfly – Another great option for our earth-toned lovers, Beige Butterfly very traditional granite from Brazil with large chunks of gold and taupe packed among smaller concentrations of white and black throughout.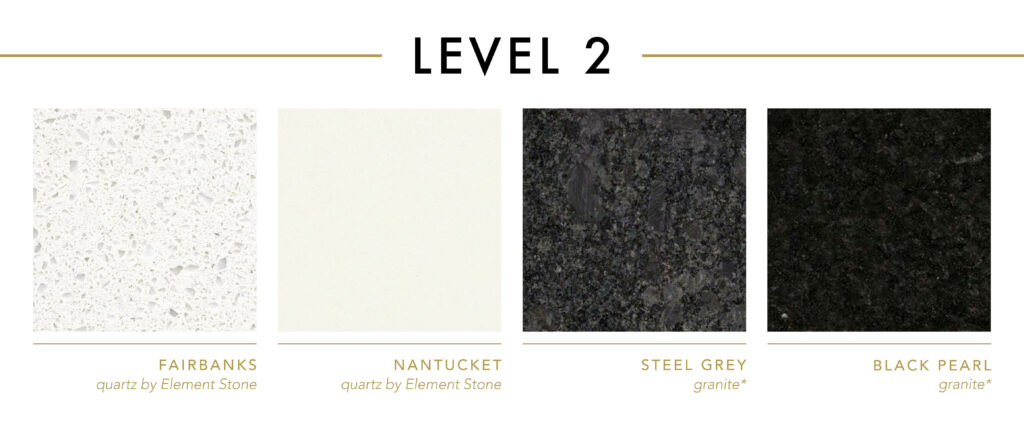 Level 2 – Granite and Quartz Options
In our Level 2 options, we introduce our first quartz options from Element Stone. Created by Element Surfaces, this line of quartz countertops are named after the world's greatest wines to designate the depth of color and veining. With a focus on sustainable practices, Element not only provides a beautiful product but peace of mind from knowing you're working with a company that demonstrates a commitment to the highest environmental standards in the world.
A manmade choice, quartz countertops include natural crushed quartz crystals combined with resins, pigments and other materials. Quartz has quickly become a popular option thanks to its durability and minimal maintenance, as well as the vast color options it's available in. Because it's manmade, quartz can be created to mimic granite or marble, or be completely unique. Arguably the biggest perk to quartz: its material makeup means it's nonporous and requires no regular maintenance other than regular cleaning – no sealing required! Quartz is also favored by many because it's considered an eco-friendly product. In fact, many quartz options are made from recycled materials!
Our Level 2 selections include two quartz and two granite option:
Fairbanks quartz by Element Stone – A clean, bright, creamy white option, Fairbanks quartz is a white countertop with flecks of clear, off–white and soft grey quartz crystals throughout.
Nantucket quartz by Element Stone – Matching in tone to Fairbanks, but with a very fine gran, Nantucket is a true solid option of in creamy white for clients searching for a very clean, simple surface.
Steel Grey granite – A near black countertop option, Steel Grey includes light grey specks to contrast its dark background. This charcoal granite is a customer-favorite with a leathered or honed finish upgrade.
Black Pearl granite – Another dark option, Black Pearl has a deeper, richer black look with subtle specks of gold, silver, brown, green and gray throughout.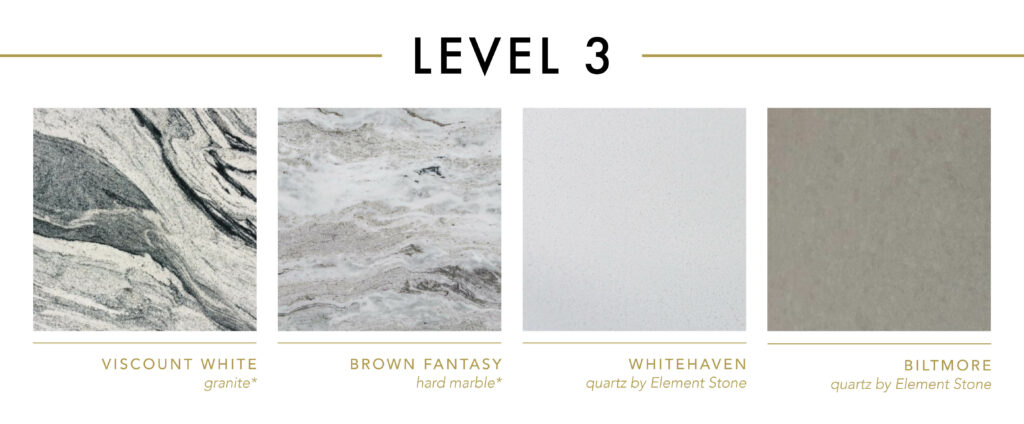 Level 3 – Granite, Quartz and Marble
Our only marble offering in the Concept Countertops collection is available in Level 3. Hard marble is beloved thanks to its elegant, natural beauty, durability and heat resistance. Marble is porous and can easily absorb liquids and stains, meaning it requires more maintenance than most other countertop options, but the density of hard marble is a bit more forgiving than softer marbles and performs similarly to granite. Regular sealing and maintenance to prevent stains and etching is required, and an occasional repolish can be necessary to ensure marble maintains its luster. For those willing to put it in a little bit of extra TLC, marble is an exquisite addition to any home!
Viscount White granite – This distinctive stone is a mesmerizing blend of black, white and grey waves.
Brown Fantasy hard marble – Because marble is naturally occurring, every slab is unique. This warm, eye-catching option can include a variety of colors including cream, brown, white, pink, red, grey and green. As the top-selling upgrade in our Concept Collection, this customer-favorite seems to go with everything.
Whitehaven quartz by Element Stone – This bright, crisp, solid white is elegant, modern, and clean.
Biltmore quartz by Element Stone – This unique quartz option has a concrete-like appearance with warm grey tones. This special selection is only offered with a matte finish – no finish upgrade required!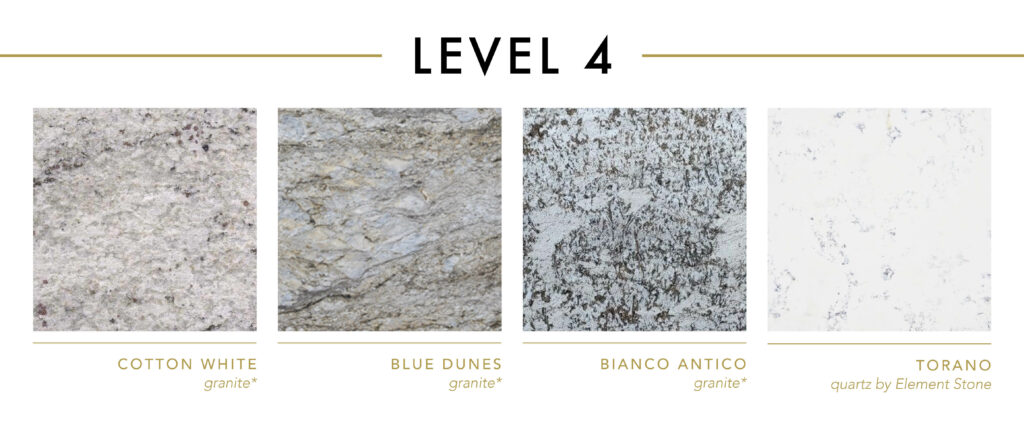 Level 4 – Granite and Quartz Countertops
Our Level 4 options in our Concept Collection of countertops include beautiful granite and quartz options with unique colorways.
Cotton White granite – Cotton White granite boasts a primarily white background with grey and black accents and low color variation, offering a consistent look across your surfaces.
Blue Dunes granite – This beautiful earth-toned granite boasts varying tones of cream, grey and black with specks of blue throughout, hence the name!
Bianco Antico granite – This popular stone works with a variety of color schemes thanks to its soft grey or nearly white background with blends of chocolate brown, black, warm taupe and pink throughout. The dark, linear crystallization in this color is really something special.
Torano quartz by Element Stone – Enjoy the marble look in a man-made material with this beautiful option that has a white base and soft grey or taupe veining.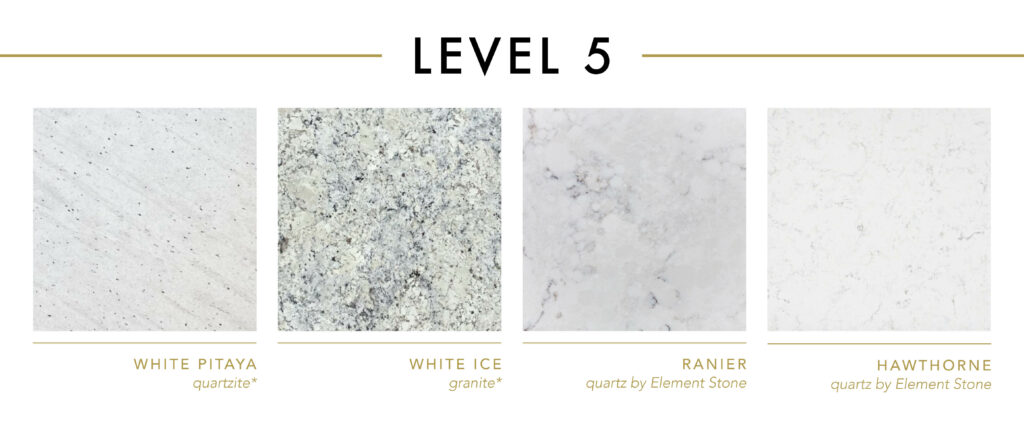 Level 5 – Quartzite, Granite and Quartz
Our only quartzite product is available in our Level 5 countertops collection. Quartzite is a naturally occurring stone made when quartz sandstone is exposed to high temperatures and pressure, which result in the recrystallization of the sand grains and silica cement that binds them together. The result is an incredibly strong stone. Homeowners love the stone's marble appearance and little maintenance, although it must still be sealed to maintain its durability.
White Pitaya quartzite – This unique colorway includes a white background with specks of black, grey and off-white, as well as a light grey veining.
White Ice granite – This popular stone works with a variety of kitchen cabinet colors from light to dark thanks to its mesmerizing blend of steel grey, bright white, cream, and black colors.
Ranier quartz by Element Stone – This milky white quartz has a very airy feel with swirls of off-white, grey and black throughout.
Hawthorne quartz by Element Stone – This soft white countertop option is a lot like its sister Ranier, but takes on a warmer personality with its creamy tones and whisps of soft grey and tan throughout.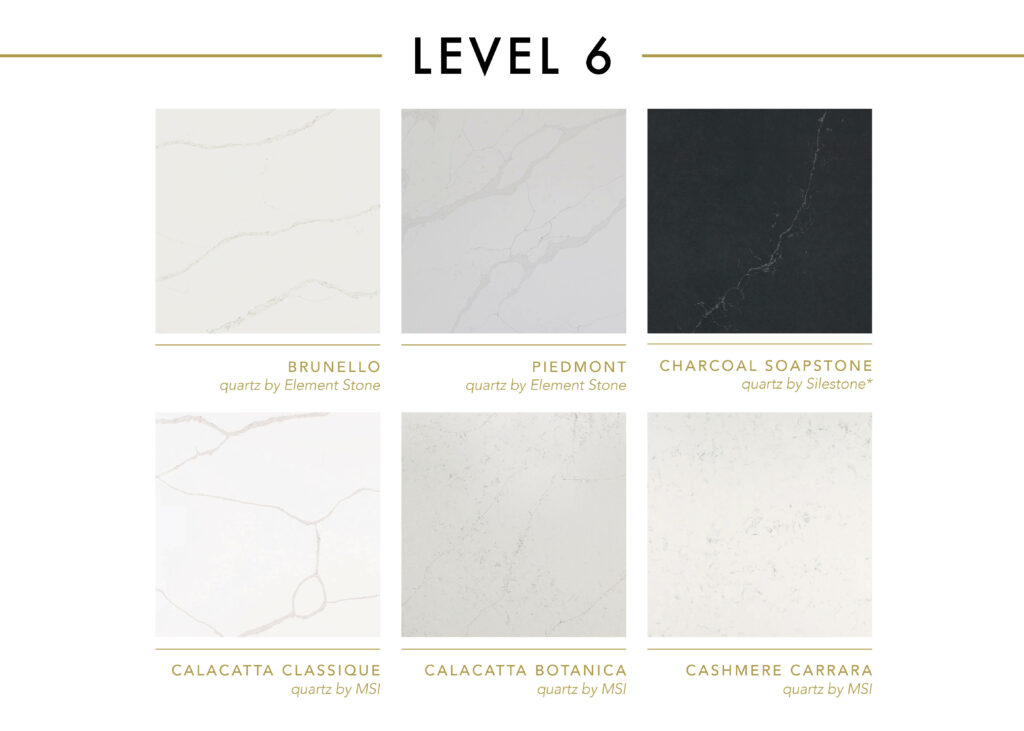 Level 6 – Quartz Countertops
Level 6 consists exclusively of manufactured countertop options by Element Stone, Silestone by Cosentino, and Q Quartz by MSI. Founded in 1975, MSI Surfaces' goal is to contribute to a world where anyone can afford to create a beautiful space to live, work and play. With an impressive array of product offerings in every budget and a charitable trust aimed at improving the communities its employees live and work in, we are proud to work with a company like MSI.
Brunello quartz by Element Stone – Consistently one of our top-selling slab options, this warm, dramatic option mimics marble with its milky white background and brown-grey linear pattern that looks like veining.
Piedmont quartz by Element Stone – Similarly dramatic, Piedmont quartz has a much cooler marble look with its soft white background, broad veins of light grey, and thinner veins of darker gray .
Eternal Charcoal Soapstone by Silestone – Inspired by traditional soapstone, this beautiful stone has a blue-grey finish with stunning soft grey highlights.
Calacatta Classique by MSI – This classic color has a clean white background with striking narrow veins spreading across the slab in a non-linear pattern.
Calacatta Botanica by MSI – Another soft white background with gray veining, this color takes on a whole new tone with the subtlety of its soft marbling and fine veining. MSI calls this "unfussy elegance" and we have to agree.
Cashmere Carrara by MSI – Cashmere Carrara is a simple, sweet staple for the traditionalist and modernist alike – you can't go wrong with this stunning white with understated marbling.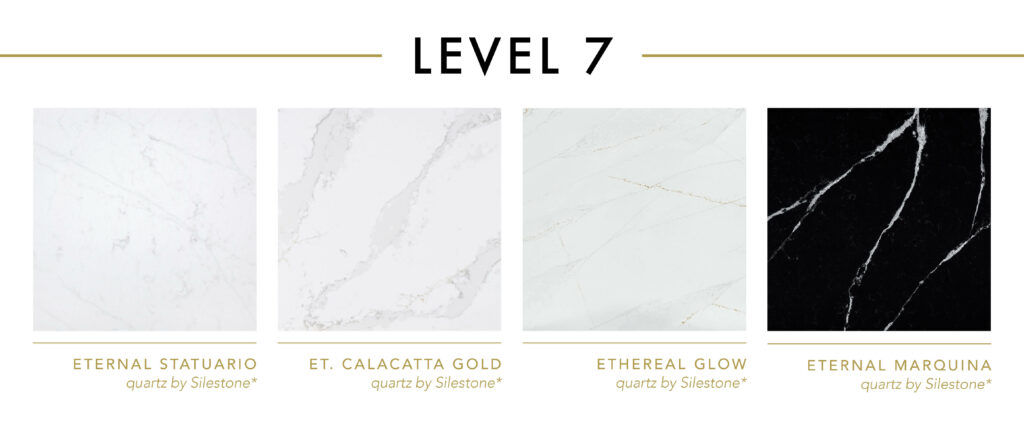 Level 7 – Quartz Countertops
The top level of countertop options in our Concept Collection of Countertops, all Level 7 countertops are engineered Silestone options. Silestone is the leader in all types of mineral surfaces for kitchens and bathrooms. Silestone countertops are incredibly durable and available in a variety of colorways and finishes. Enjoy the look of nearly any type of countertop material with limited maintenance and maximum toughness when you select a Silestone option.
Eternal Statuario by Silestone – Inspired by the classic Italian Carrara marble, this countertop option has a white surface with very soft, sparkling grey highlights.
Eternal Calacatta Gold by Silestone – This popular option features a white background with wide, grey highlights and unexpected golden glints throughout.
Ethereal Glow by Silestone – Similar to the Eternal Calacatta Gold option, this surface has smaller grey veins following a more linear pattern and interspersed with more gold throughout.
Eternal Marquina by Silestone – Designed to look similar in appearance to the Spanish Black Marquina marble, this stunning countertop features a deep black background with bold white veining throughout.
Concept Collection Countertop Finishes
When you purchase countertop options from the Concept Collection, a polished finish is included standard. The most common finish, a polished finish is the typical glossy, reflective look that provides a smooth feel and enhances the colors by making them appear richer and darker.
Upgraded finish options are also available on all of the natural stone and Silestone quartz products in our lineup. The upgrade finish options include:
Honed or "Suede" Finish: This matte or flat option provides very little to no sheen and a smooth feel. The velvety appearance creates a more casual, cozy feel and colors are typically more dull in appearance. It's important to note that this finish option can be higher maintenance when it comes to stains. Silestone refers to this finish as "Suede" and it is the only finish upgrade offered on our Concept Collection colors from their lineup.
Leathered Finish: Another popular option, leathered countertops have a very distinctive finish. This option has the same matte appearance as a honed finish, but the countertops are not smooth. During the finishing process, the slab is textured using diamond-tipped brushes that create a dimpled surface. This option doesn't fade the natural colors, keeping the countertops rich, while the texture resists stains and hides water spots and smears.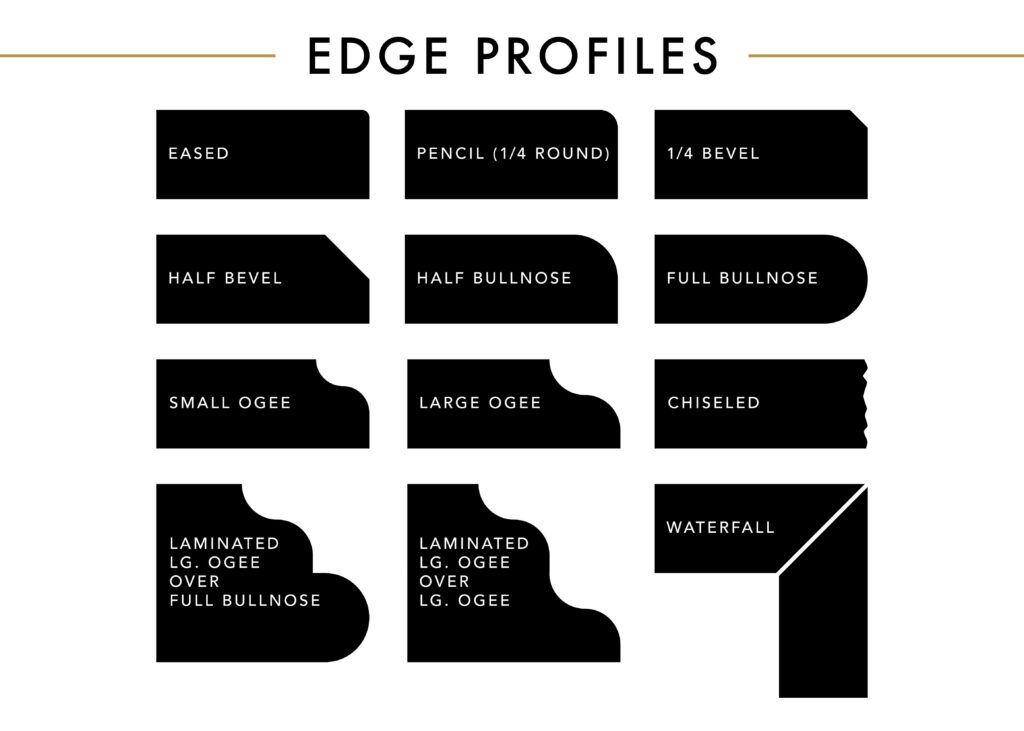 Concept Collection Countertop Edge Profiles
All Concept countertops come standard with an Eased Edge profile, which is basically a squared edge with softened edges so the corners aren't actually sharp. However, a variety of upgrade edge profiles are available:
Pencil – Similar to the Eased Edge, this option just has more rounded edges, which creates softer corners. This is a complimentary option.
1/4 Bevel – A beveled edge is when the top angle of the countertop is flatted at roughly a 45-degree angle, creating a slanted edge. This option is the smallest bevel option, where just the top quarter of the countertop edge is flattened. This is a complimentary option.
Half Bevel – Just like the 1/4 Bevel option, the Half Bevel features angled corners. This option just includes larger angled corners with half of the countertop edge flattened.
Half Bullnose – This edge profile means your countertops will have the largest curved edges available on the top half, but the base or front of the edge remains flat.
Full Bullnose – With this option, the entire edge of the countertop is curved on top and bottom. This is a great option in homes with young children thanks to the fact that there are no sharp edges. However, this style can make the countertops look thinner.
Small Ogee – A popular, intricate option, an Ogee is a concave S-shape that provides an elegant, eye-catching design.
Large Ogee – Just like the Small Ogee, this option is a concave S-shape, but it's deeper than the Small Ogee version.
Chiseled – Also known as a rough edge, Chiseled Edge countertops use the natural edge of the stone showing its distinct texture and natural characteristics. This countertop option generally feels much more informal and is ideal used in outdoor spaces, wet bars and other casual areas.
Laminated Large Ogee over Full Bullnose – This elegant option combines the classic S-shaped curve of the Ogee with a fully rounded edge below it, creating a thick and attractive edge profile that's especially beautiful on a kitchen island.
Laminated Large Ogee over Large Ogee – This double Large Ogee profile features a double concave S-shape and adds extra depth to your countertop. Because of its thickness, this is best used in larger kitchens.
Mitered/Waterfall – Nearly all of the countertops available from All Concepts can be installed with a mitered or "waterfall" profile. The "turn-down" can be any length, but the most popular options are 3" (to create the illusion of an extra thick material) or to-the-floor. This option is especially popular for countertop ends or kitchen islands – a waterfall edge to the floor creates the appearance of the stone 'waterfalling' over the edge of the cabinets or island.
Interested in downloading a copy of our Concept Collection Catalog? Click here!
To learn more about our Concept Collection or to hire All Concepts to simplify your home's cabinet and countertop process, call us at 770-534-0942 or contact us here.
---